Our roles are:
Build community endowment.
Address needs through grant making.
Provide leadership on key community issues.
The Sussex Area Community Foundation was incorporated in 2004 by a dedicated group of community leaders. When you make a gift to the Sussex Area Community Foundation, you join people from all walks of life who have one thing in common, the desire to make a difference to the Sussex Area, forever. Your gift will continue to give, year after year, because it is part of a permanent endowment that is professionally managed by a team of community leaders and investment advisors.  Earnings from the endowment are used to give grants and scholarships to our community. Random Act of Kindness day is November 3.  A day to take the time to do something nice for someone with nothing in return. School grants were provided to area schools thanks to the following businesses:
All Season's Restaurant
Agropur Dairy Cooperative
Homenick Law
Sheryl Tabor Law Office
T. Allison Gerrish Law Office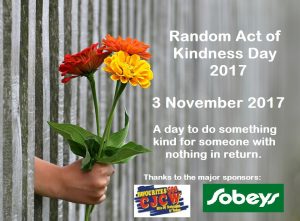 Please listen to CJCW morning show on Friday, November 3 for a Kindness Call-in and a chance to win Sobey's Grocery Cards.  Thanks to CJCW 590 and Sobey's Sussex.