SPRING 2008 Grant Recipients
  The recipients of more than $20,000 in Spring grants from the Sussex Area Community Foundation are, back row, left to right: Ottie Forgrave, Southfield United Church Hall; Eric Nelson, Sussex Seniors Centre; David Alexander, Sussex Health Centre; Andrew Ness, Belleisle Community Pool; SACF chairman Richard Sullivan. Front row: Ann West, Kiwanis Nursing Home; Sally Richards, Learning Partnership; Tanya Warren, John Howard Society; Joyce Sparks, Sussex Corner Elementary School; Theresa Teakles, Fundy Civic Centre. The Sussex Area Community Foundation has invested more than $142,000 in grants and scholarships in the greater Sussex region since 2004.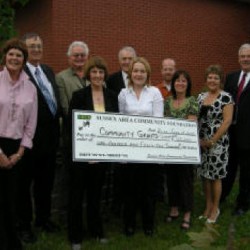 The Fundy Civic Centre added $5,000 to its more than $700,000 in community donations for the regional recreation facility. Construction of the $4.6-million project is expected to start next year.
A $5,000 grant brings a new ultrasound machine closer to reality at the Sussex Health Centre. Fundraising committee member David Alexander said nearly 4,000 area residents, including expectant mothers and seniors, will benefit from this diagnostic technology locally instead of traveling to Saint John or Moncton. The committee is one-third of the way to its $300,000 goal.
Visitors and residents will soon enjoy new furniture in the lounge area of the Kiwanis Nursing Home, purchased in part with a $1,200 SACF grant. The new seating replaces 30-year-old furniture, making a welcome gathering spot in an otherwise underused portion of the centre.
The new wheelchair-accessible covered entrance to the Sussex Seniors Centre is $1,000 closer to completion. The new funds will help landscape around the extension, said centre chairman Eric Nelson.
Southfield United Church Hall has $1,000 to help install a new emergency exit in its basement. This safety improvement to the popular 1861 venue is a welcome addition to the popular meeting place.
The Belleisle Community Pool Association received $1,500 to help install ventilation equipment for the ongoing renovations to the indoor recreation venue.
A $1,000 SACF donation helped the John Howard Society bring professional boxer George Chuvalo to Sussex in May. The personal account of losing his three sons and wife to drug abuse was a vivid reminder of the havoc drugs wreak.
This idea of early intervention is carried further in the Second Step and Steps to Respect Program at Sussex Corner Elementary School. The $1,320 grant helps promote anti-bullying efforts among children in the classroom and on the playground.
Up to 660 Kings County families will get a boost to their children's education during the 2008 school year. The $3,500 SACF funds will pay for Welcome to Kindergarten program materials in School District 6. Books and learning tools help beginning students with reading and numeracy skills prior to starting school.
The day following the grants presentation, five Sussex High School graduates received Forbes Family scholarships during the June 19 graduation ceremony
The Sussex Area Community Foundation works with community donors to make charitable donations go farther. Both one-time bequests and on-going gifts are invested with the interest and dividends disbursed to support causes important to the donors. Chairman Richard Sullivan announced the family of Earl J. Cunningham has entrusted SACF to manage a family fund in their name to issue annual scholarships to SRHS graduates. Their generosity is one example of how the Foundation works for the betterment of our community.
Twice a year, SACF presents grants, scholarships and bursaries to organizations to assist with immediate and long-term goals.
FALL 2008 Grant Recipients
Eight Kings County groups received $1,000 each during the Sussex Area Community Foundation autumn grants ceremony, Nov. 26. Left to right: Krista McKnight, P.A.C.K.; Jayne Bettle, Apohaqui Elementary School; David Alexander, Sussex Health Centre; Moyra Long, Sussex Regional Library; Richard Sullivan, SACF chairman; Judy Legere, Danny and Jessica Angel Foundation; Fennella Brewer, Sussex Regional Library; Raya Khederi, Sussex Elementary School; Carol Green, Apohaqui Elementary School; John Robinson, Fundy Civic Centre.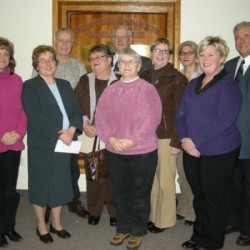 Sussex Area Community Foundation
distributes $8,000 in autumn grants
SUSSEX, NB – The Sussex Area Community Foundation (SACF) is building for the future with the latest grants to Kings County organizations during its autumn awards ceremonies.Twenty people gathered at the Sussex Regional Library Nov. 26 to see eight groups receive $1,000 each during the second of two annual dispersals of funds. Demand for community funding continues to grow in the tightening economic scene as the foundation concludes its fourth year of grants."SACF was pleased to be able to help these organizations out but it should be noted that more than $130,000 was requested by 29 organizations last year. You can see that the need is there so it is very important that people consider giving to the Foundation so that we can meet more of these needs in our community," chairman Richard Sullivan said.Area children will get a solid start to their education thanks to SACF funding a variety of youth-oriented projects. From the Parent and Infant Learning series offered by the Preventative Action of Community Kids (P.A.C.K.) to hours of safe play through Apohaqui Elementary School's Peaceful Playground initiative, SACF showed its support for young people both in and outside of the classroom. Still other recipients include Sussex Elementary School where students get extra encouragement and support through the Homework Club After School Program.Children in need from Sussex to Moncton are enjoying healthy foods and warm winter clothing through the Danny and Jessica Angel Foundation. Judy Legere oversees the project named after her two grandchildren.Grants to the $6 million Fundy Civic Centre and for a new digital ultrasound machine for the Sussex Health Centre will benefit the health and well being of all residents. The civic centre's John Robinson said the committee is preparing the site and working to start construction in 2009. Sussex Health Centre fund-raising committee representative David Alexander announced the group has recently purchased the new diagnostic equipment that helps patients from expectant mothers to seniors.When it's time to relax, there will soon be new titles in the Sussex Regional Library audiobook collection to enjoy. Branch manager Fennella Brewer said this format of enjoying popular and classic works is a big hit with seniors, hospital patients and those with vision challenges.The eighth grant will fund maintenance work at the Sussex Vale Transition House. This community venue shelters abused women and children and provides temporary housing for those in need.The Sussex Area Community Foundation manages a capital fund of $1.5 million, with the interest from its investments disbursed around the greater Sussex area under the supervision of a volunteer board of directors. To learn more about the work of the SACF, visit the foundation's web site at
www.sacfi.org
.