Grant Recipients 2009
In the Spring, Sussex Area Community Foundation provided grants to the following recipients:The Learning Partnership provided "Welcome to Kindergarten" packets to children starting Kindergarten in the fall. The Canadian Parafpegic Association of New Brunswick received a grant for a Seniors Rehabilitation Outreach Counselling program in Sussex.Canadian National Institute for the Blind (CNIB) received a grant to start a Peer Support Group for the  visually impaired.The Little Jackie Fund recived money to provide orthodontic care to children of low income families. Sussex Vale Transition House received money to purchase a new refrigerator.The Sussex Area Early Intervention (PACK) recieved money for a parent-infant series.The Kings County Soccer Assocation received a grant to secure and complete the field house for soccer equipment.The New Brunswick Association for Community Living received money for ten families to attend the National Family Conference.The Agricultural Museum of New Brunswick received a grant to purchase a touch screen television, sound system and media player for a new presentation at the museum. In the Fall of 2009, Sussex Area Community Foundation provided grants to the following recipients: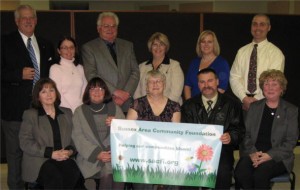 Danny and Jessica Angel Foundation Inc. to provide food and winter clothing for children.PALS (Partners in Alternative Learning Strategies) to provide funds to purchase treadmills, provide cleaning services and water to a Community Running Room Program.Sussex Pregnancy Care Centre to provide material and upgrade for a Earn While You Learn Program.Sussex and Area Seniors Centre to make renovations and wheel chair accessibility to washroom on the main floor of the seniors centre.A grant to the Sussex Middle School for the "Get the Wheels Rolling – Middle School Minibus Purchase".Sussex Regional High School – Library Committee for the "Human Rights, Human Wrongs" initiative to bring journalist/author Sally Armstrong to Sussex.