The Sussex Area Community Foundation Inc. awarded the following grants at a ceremony on May 31 at the Sussex Regional Library: The Learning Partnership received money to continue their "Welcome to Kindergarten" pre-school readiness program. The Multiple Sclerosis Society, Atlantic Division was awarded a grant for an assistance program for people living with MS in the Sussex area.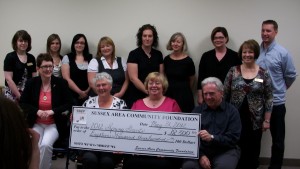 Kings County Tourism Association received a grant to be used to replace and upgrade existing capital equipment. Prevenative Action for Community Kids (PACK) received money to provide an outreach program in Sussex Corner and to promote PACK. The Sussex Literary Initiatives & Cultural Events (SLICE) received a grant to help fund the 'Sussex Celebrates Nature' day on June 1 and 2, 2012. Canadian Mental Health Association recieved money to provide a workshop for people living with mental stress that will help develop coping mechanisms. The Norton Community Playground received a grant to help remodel the Norton School playground. Communities in Bloom received a grant to create a theme garden in Sunnyside Park on Main Street. Sussex Regional High School recieved a grant for their Physical Education department to buy stationary bicycles for use by students to encourage a more active lifestye. ____________________________________________________________ On the evening of November 28, in Wesley Hall at Kingswood University, the Sussex Area Community Foundation Inc. awarded their 2012 Fall grants to Sussex Area charities which totaled over $15,000.  Portage Atlantic in Cassidy Lake were presented a grant to purchase Judo Mats for their Judo program for youth in treatment.  Preventative Action for Community Kids (PACK) representative received a grant to provide parenting workshops for families with young children.  Nancy McLeod advised that the program has been successfully offered in the past and is already full.  The Sussex Regional High School Physical Education Department received a grant to purchase spin bikes to keep students active.  Teacher Spencer Jeffrey advised that this is the second grant for spin bikes and the bikes are available to the 900 students at the school as well as staff as a keep active initiative.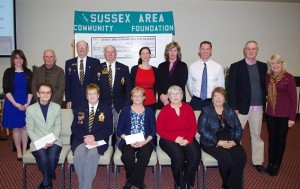 The Sussex Pregnancy Care Centre received a grant to purchase program updates for their 'Earn While You Learn' computer program.  The Danny and Jessica Angel Foundation received a grant to purchase meal tickets, snacks and grocery vouchers for children and families in need.  The Sussex and Area Activity Centre received a grant to purchase a computer for clients to use at their facility.  Davine McLean enthusiastically accepted the grant and stated that that since opening in 1993, the Activity Centre has never had a computer that clients could access.  The Royal Canadian Legion in Norton received a grant to purchase a heating/ cooling system for their legion which is also an emergency measures facility.  The Potash Corp Civic Centre in conjunction with Sussex Youth Centre received a grant to purchase an inflatable climbing wall for the pool.  The Sussex Committee for the Prevention of Family Violence received a grant to offer the "Man to Man Program" to middle school aged boys.  The CHIMO Helpline received a grant to advertise their helpline to those in need.