Communities in Bloom with More than a Garden
Volunteers make Sussex bloom, one plant at a time "When people say ʻI've been to Sunnyside Park and I love it', my work is done," said Joan Routledge representing the Communities in Bloom (CIB) organization in Sussex, NB. "Communities in Bloom is an umbrella organization helping the entire community to show off, to the whole country, what makes Sussex great."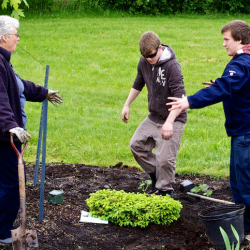 The organization has twice been the recipient of a grant through the Sussex Area Community Foundation to assist in the development of a "Teaching Garden" in Sunnyside Park on the Town's Main Street. Last year the garden was prepared, soil amended and five large Autumn Fantasy Maple trees were planted as the foundation for the project. This spring, with the help of volunteers from Communities in Bloom and other local organizations, planting continued creating separate areas within one larger garden space. There are Rock Gardens, a Xeriscape area (housing drought tolerant plants), a Bird Garden, Shrubs and Rhododendron area, Azaleas, and a Butterfly Garden. The park is close to the Sussex Elementary School and a playground. It will provide a wonderful environment for the children to learn more about nature, how plants attract birds, butterflies and other insects, and the community benefits of having attractive green spaces available for all to enjoy. Photo caption: Joan Routledge explaining to two volunteers (L_R: Joan Routledge, Nathan, Chris) how the small plants being added to the garden at Sunnyside Park today will grow much larger in the future. Development of the park was originally expected to take five years, but Routledge is hopeful that it will be done in only three. The Town of Sussex has already contributed including preparing an area for a rest bench and waste receptacle. Next will be the purchase and installation of a shade tree for the swing set area in the playground and a sign. In the meantime, volunteers with CIB, with assistance from other community organizations and groups, continue to develop green spaces in and around the town. "Our committee has developed eighteen sites so far," Routledge said, and sixteen of those have been adopted out to others to maintain by taking care of the weeding, deadheading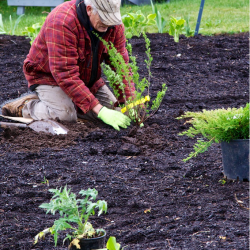 flowers, etc. "We are an umbrella organization for promoting the community and sharing information, assistance and providing access to volunteers and ideas with other groups. Support from the Sussex Area Community Foundation has enabled us to do more and more quickly, and we appreciate that," she concluded. The Foundation, run by a volunteer board of directors, provides financial support to various local organizations with the goal of enhancing the quality of life within the community today and into the future. ______________________________________________________________________________
 School Wellness – A Far Cry from "Just Gym"
Today's classrooms with smart boards, electronic presentations and even web pages for subject material and classroom notes at the Sussex Regional High School (SRHS) bear little resemblance to the one-room educational institutions portrayed in the old TV series, "Little House on the Prairie". Nor does today's Health and Wellness curriculum resemble the old health classes and gym classes that we middle-aged and older folks remember.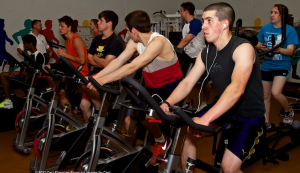 Students taking the Health and Wellness courses at SRHS with teacher Spencer Jeffrey have a unique opportunity to incorporate both classroom studies with a variety of physical activities. Thanks to Jeffrey 's relentless pursuit of ʻout of the box' funding opportunities and sponsorships, students have access to a well equipped exercise room. He said, "If we provide it, they will use it." Through grants received from the Sussex Area Community Foundation Inc. (SACFI), the Health and Wellness program has been able to add five spin bikes to its collection of exercise machines, and this year's grant will allow them to add a Bowflex ® Tread Climber to the collection. That machine, along with others purchased through Fitworks in Moncton, will provide even more diversity for the exercise program.
"The students are excited about this program," Jeffrey said. "In the first year we offered one class. Now the demand has grown to the point where we have three class groups and over 800 students making use of the facility annually."
While peddling a spin bike, student Amy Beers said, "This program gives us the freedom to do whatever (exercise) you want to do as long as you complete each stage."
Nick Kiervin, another student peddling away, said, "Doing something physical like this during the day refreshes my mind."
Jeffrey said that "The grants from the Foundation provided the basis to get this course up and running and allow us to promote wellness as a lifestyle," he said. Technology plays a large part in the program as well. Ben Hyslop proudly demonstrated how he uses an ʻapp' on his smart phone to track his progress doing pushups. Others use apps on their smart phones to measure time and distance when they run.
By tapping into the students' existing interests and lifestyle the Health and Wellness program plays an integral part in contributing to the future health and wellness of the entire community. Other Health and Wellness teachers within the school district spent a professional development day at the school discussing their programs and how to fund further expansion. Jeffrey told them about the Sussex Area Community Foundation Inc. and suggested they look for similar organizations in their own areas as well.
The Foundation is run by a volunteer board of directors, and provides financial support to various local organizations with the goal of enhancing the quality of life within the community today and into the future. The Foundation also invests in the communities' futures by providing scholarships to qualified high school graduates who will be attending post secondary educational institutions.