Random Act of Kindness Day
A day to do something nice for someone with nothing in return.
On November 6 post your kind acts to Sussex Area Community Foundation Facebook page or call them into (506)433-6244 for a chance to win one of three $25.00 Sobeys Gift Cards.
Small grants are offered to local schools to encourage kindness and empathy. It is small acts of kindness that make a difference no matter how old, how rich or where you live.
The following schools will be participating in Random Act of Kindness Day on November 6:
Apohaqui Elementary School
Belleisle Elementary School
Belleisle Regional High School
Compass (Pal's) School
Kingswood University
Sussex Corner Elementary School
Sussex Elementary School
Sussex Middle School
Cambridge-Narrows Community School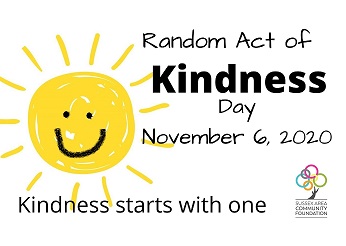 Here is a printable Random Act of Kindness Day bookmark.